Let's face it, spring is a beautiful season! The blossoming trees, with their magnificent colours, make cities more romantic and full of good vibes! Temperatures are mild and being outdoors is always a pleasure!
This year has arrived a bit late, it's true, but we're all still in time to capture the perfect shot and make our feeds more and more Instagrammable and full of vibrant colours! 😎📸
Everyone ready? Let's get started!
1-STRIKE A POSE
Why stand next to a tree and take an ordinary photo when you can put your phone on the ground and publish a more original selfie? Inclination, as you can see, is everything! Just watch out for the double chin! 😂😋 That's why Perderma helps you with the lifting effect neck mask, don't be unprepared!
2- FLORAL CORSAGE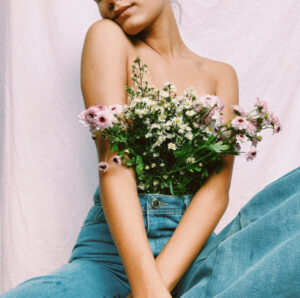 Find a corner of your house with a neutral background, and if there isn't one, lay out a white sheet to use just as you would on a photo shoot. Take a bunch of your favourite flowers and place them inside your jeans, just like the model in the photo! Choose the best pose for you and enjoy taking an artistic photo wearing a real floral corsage! 💐
3­­- EXPLORE INSTAGRAMMABLE ALLEYS

Credits: Pinterest

Now that we are starting to breathe a little more freedom - let's not say it too loudly - it will be a treat to take a more carefree walk in the fresh air, especially now that it's Spring!
Look for a particular alleyway or landscape in your city where you can take a nice photo! 🏘📸
If you live in Milan, we recommend ''via Lincol'', a street just a few hundred metres long lined with small houses reminiscent of picturesque neighbourhoods such as Nothing Hill in London, or the colourful houses of Burano in Venice! It's no coincidence that it's also called the 'rainbow district'!
Remember that in order to be even more photogenic, it's a good idea to use a purifying mask so that any imperfections don't show up in your photo! Try our Bamboo Charcoal Black Mask!
4- ''RUNAWAY AURORA'' TREND
If you're on the pulse of Tik Tok, you've probably noticed this trend because it's so popular! The new trend is all about one's silhouette contrasting with the bright, vivid colours of the sky. Using a specific Instagram filter ('runaway aurora'), everyone can create spectacular photos and videos! The song is called Runaway by the Norwegian singer Aurora - hence the name of the trend - which precisely marks certain moments in which you have to assume striking poses, for example, when dancing.  💕
If you have a partner, enjoy a nice moment together by trying out different poses and then, post it all on Instagram! 😉
Now that we've given you some useful tips, don't forget to visit perderma.com! You'll find the perfect cosmetic masks for this season to keep you looking fresh and glowing! 😘