Oxygenating And Revitalizing Bubble Mask
With Seaweed iodine-rich that stimulates the oxygenation of the skin and Sea Ginseng well-known for improving the dermal appearance through their revitalizing action. Ideal for eliminating signs of fatigue bringing luminosity and freshness.
€

9,90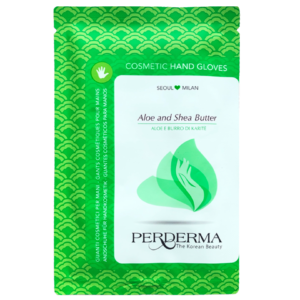 Cosmetic Aloe Hand Gloves
Cosmetic Hand Gloves with Aloe and Shea Butter with nourishing and moisturising properties for velvet soft hands. With Gloves on, thanks to the touch function, you can continue to use your smartphone.
€

8,90
Shiny Hair Mask
Hair Mask with Argan Oil, precious ingredient with nourishing properties that are rich in fatty acids, reinvigorates the skin and nourishes the hair making it strong, healthy and shiny. Argan Oil regenerates hair and helps protect it from the stress of heat sources (hair dryers, straighteners) and pollution. Brilliant hair from the roots to the ends.
The mask has a heating effect to improve the action of the functional ingredients.
€

10,90
DRY FEET
Shoes and socks protect us from the cold, but despite that the feet are always cold, dry and chapped! Discover here the cosmetic socks that will restore softness to your feet!
PERDERMA
is ready for all needs and can't wait to take care of you and your body! 😊
Choose which of the single-use masks Perderma is the most suitable for you and fill up on good vibes!
Perderma aims to make you happy and spontaneously beautiful!