Gold and Collagen Eye Mask
This hydro-gel mask infused with collagen and gold, specifically formulated for the eye area, restores radiance for a seductive look.
€

7,90
Anti-Aging Face Mask
This anti-aging mask with Korean red ginseng, known for its anti-oxidant properties, helps fight signs of aging.
The sheet mask, made from special cupro fabric deriving from natural cotton, efficiently diffuses active ingredients.
€

7,90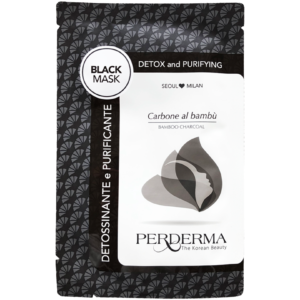 Detox And Purifying Black Mask
The excellent purifying qualities of Bamboo Charcoal are ideal against blackheads, open pores and shiny skin. A plus the Sea Ginseng for an antioxidant and revitalizing action. A perfect elixir bringing freshness and luminosity.
€

8,90
POST VACATION BEAUTY ROUTINE
DEHYDRATED FACE
After a long period of sun exposure you need to replenish the lost liquids! Choose rich formulations, so as to immediately counteract the dryness of your face and restore tone and brightness to your skin! Try now the HYALURONIC ACID MOISTURIZING mask, find all the properties here!
PERDERMA
is ready for all needs and can't wait to take care of you and your body! 😊
Choose which of the single-use masks Perderma is the most suitable for you and fill up on good vibes!
Perderma aims to make you happy and spontaneously beautiful!