Eye Contour Mask for Men
Revitalizing and Anti-Wrinkle Eye Zone Mask by hydro-gel with sea cucumber, hyaluronic acid, collagen, seaweed, panax ginseng and Vitamin E. The formula has been developed to revitalize the eye area. Helps to keep the skin toned and elastic, combating the signs of fatigue and aging.
PLUS: more serum and oxygenated skin due to micro air pocket technology. The micro-holes in the hydro-gel mask release more active elements and allow the skin to breathe preventing the vacuum-sealed effect.
€

6,90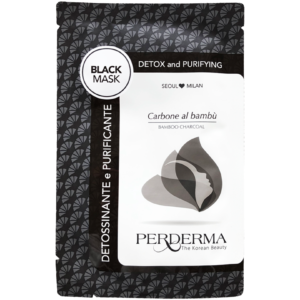 Detox And Purifying Black Mask
The excellent purifying qualities of Bamboo Charcoal are ideal against blackheads, open pores and shiny skin. A plus the Sea Ginseng for an antioxidant and revitalizing action. A perfect elixir bringing freshness and luminosity.
€

7,90
Nose Mask 3-Step
Purifying Nose Mask contains purifying properties that help eliminate blackheads and impurities, enhancing the skin's radiance and smoothness.
3-Step mask:
 STEP1: opens up pores (15-20 mins)
 STEP2: purifies (15-20 mins)
 STEP3: compacts (5-10 mins)
€

7,90
BRITTLE AND DULL HAIR
With the change of season the hair weakens and lose strength and brightness! Discover here the hair mask will make you rediscover the swissh effect!
PERDERMA
is ready for all needs and can't wait to take care of you and your body! 😊
Choose which of the single-use masks Perderma is the most suitable for you and fill up on good vibes!
Perderma aims to make you happy and spontaneously beautiful!